The fourth annual Breezers Ball will take place in Waltham on Saturday, March 10, 2018 at the Charles River Museum of Industry & Innovation, from 7 to 11 pm.
Created as a thank you to Waltham from its 'breezers'—people who've moved into town from elsewhere—the Ball has proved to be a popular event at which folks can dress up and dance and have fun at the end of winter.  This year's Ball has a very special DJ and promises to be better than ever.  Everyone who loves Waltham is invited, breezers and especially natives!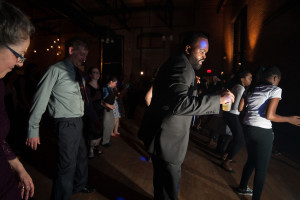 The Breezers Ball started in 2014 when a group of us breezers—lived in Waltham over 30 years but wasn't born and raised here—wanted to give back to Waltham.  We may have breezed in but we've put down roots, raising kids and running businesses here, and we wanted to thank Waltham for being a great place to live and work.  What better way to say thanks than to give a party?  And what better time for a party than at the end of winter when we really NEED a party!
Of course we invited everyone, especially our friends who grew up here and have done most to make Waltham the great city it is.  But Hispanic residents also came, Haitian residents came, Ugandan residents came—a diversity of breezers.  To our immense delight, and a little shock, almost 250 people turned out to enjoy each other's company and fill the dance floor.  A tradition began and continues in as lively a way as the very first year.
This year the Ball will be much the same, but we do have DJ Shaw coming to freshen up the music scene.  A veteran Waltham spin doctor, he's sure to please everyone's pallet!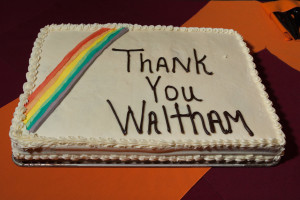 As usual, we'll have delicious food donated by many of Waltham's wonderful restaurants, plus drinks, including a brand new signature cocktail created just for the occasion. There will be entertainment from The Karolines, Waltham's terrific Ugandan singing and dance group affiliated with St. Mary's parish.  And since it's a Ball, we encourage people to dress festively—there'll be Best Dressed prizes for Most Elegant, Best Vintage, and Most Creative.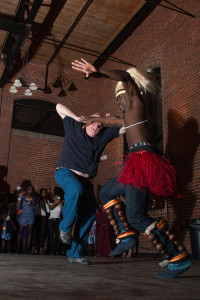 One more important thing to mention: the proceeds from the Ball fund two scholarships for graduating Waltham High School seniors going on to further education.  One is for a student going on in the arts and one for a student in a technical field.
Tickets are $50, available online at Eventbrite, and also at Café on the Common and Long Life Auto Repair.
See you at the Ball!